Church Email Hosting
---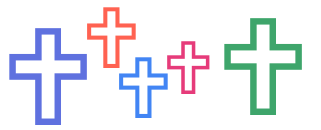 Email addresses specially-made for members of the church congregation are increasing in popularity.
Here are two reasons why Father Sebastian uses Email Maniacs to offer Email Service to all of his church's members.
1) It gives parishioners a greater sense of belonging to the church. They proudly give out their email address to friends and family.
2) Church members indirectly promote the church by displaying its name every time they send out email or give out their email address, which helps the congregation grow.
Note: Father Sebastian uses his church's name for his Church Domain email. We have also seen ministers register a domain with a passage from The Bible to promote what their church finds important.

How to get domain email for your church:
Step 1:
If you don't already have a domain, register your Church Domain with a good
Domain Registrar
.
Step 2:
Change the MX Records for your Church Domain name. You can learn how to do that here:
MX Records Change
Step 3:
Tell members of your church to sign up for Church Email Service here:
Get Email Address
NOTE: We can generate a special webpage here on Email Maniacs that will only apply to signing up with your Church Domain. Please
contact us
if you would like us to do that.
---
Copyright | Privacy Policy | Disclaimer | Terms